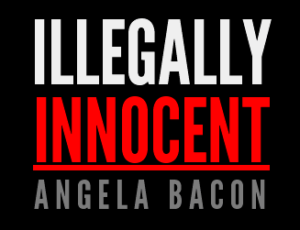 Watch the book trailer!
Click the link below to read the first two chapters of Illegally Innocent ( .pdf download):

What would you do if the government banned your career?
Grace Hampton is comfortably settled into her job as a bioenergetic practitioner when the government outlaws her profession and the products she uses to improve her clients' health. Committed to helping people conquer illness, Grace is forced to join up with a former flame, Jake Pennington, in order to smuggle herbal supplements and other non-traditional health remedies into the United States.
What if your friends and family wavered in their support?
As time passes, Grace must learn to discern between those who are fully devoted to protecting her life and her business and those who are not. In the midst of her family attempting to persuade her to change careers, her office's landlord dismissing her from the premises, and deciding to take on more serious health cases than she ever has before, Grace is not always as careful as she should be…
Should you ever trust a liar?
As Grace and Jake spend increasing amounts of time together, Grace's wounded heart softens; she wrestles with whether or not to trust him, especially when an inquisitive policewoman steps into their lives. A phone call in the middle of the night changes everything.
Her job is illegal, but she's innocent of doing harm.